>> May 17, 2009
Boys Over Flowers – choosing a boy (or love) over flowers (or something superficial)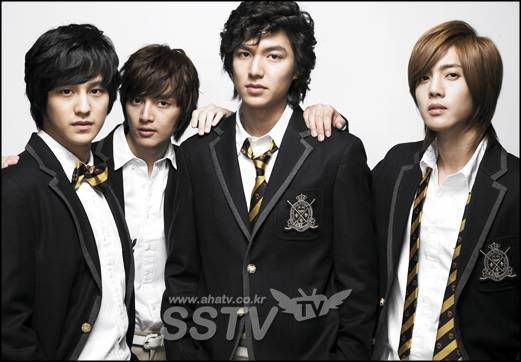 Yes guys! This is it! The new Asianovela Phenomenon Boys Over Flowers that is hitting the Philippine TV will come and invade manila by storm. The Most Popular TV sensation all around Asia, The KOREAN F4, will visit our country. There is no exact date but just this afternoon while I was watching The Buzz, Kris Aquino read the message Group 8 (Producer of Boys Over Flowers) and KBS (TV Network) has sent to them and it is stated that the CAST OF THE BOF or specifically the F4 will come and visit the Philippines to express their thanks and gratitude to all the Filipino people supporting their drama. I'm sure all of us are excited for this big event but for us Bacolenos, huhuhuhu, so unlucky....we can't even have the chance to hold them or just even see them in person..unless one of us will really fly to Manila for this happening. If you want to see the full episodes of the drama..just go to www.mysoju.com. And for tagalized BOF, www.dapeke.blogspot.com. Have Fun! Oh! Btw, there's a rumor spreading that there would be a Meteor Garden Philippine Version Remake and for the role of Sanchai, it would be Sarah Geronimo. Dunno if it's true but I've just read about this article at wikipedia. I can't find the link anymore so..search yourself.


Lee Min Ho
as Goo Jun Pyo
Kim Hyun Joong
as Yoo Ji Hoo
For BOF Addicts, I'll give you Fast Facts about them and the Drama:
1. Jang Ja Yun (Sunny, one of the bad girl who's bullying Jan Di) committed suicide just this March 7 , 2009. Reason for that suicidal is that her manager is pressuring her on her career and life.
2. Lee Min Ho (Goo Jun Pyo) falls down at the red carpet in the Baeksang Awards Night! Too much shame but in the end
he won in the 45th Baeksang Awards:
Best New TV Actor. COngratuations! Watch the video...too embarassing!BUt he even smiled huh...
3.
45th Baeksang Awards:
Most Popular TV Actor
goes to Kim Hyun Joong.

4. The Most popular loveteam on the net,
the SOEUL
(So Yi Jung and Chu Ga Eul-Jan di's Bestfriend)
Tandem!
Watch out for their very kakilig scenes! They really have a good chemistry.
Watch their advertisement featuring AnyCall Bodyguard MV...


5.
F4 Commercial (except Jun Pyo)

SamSung Haptic Touch Phone! (My Dream Phone! )Watch this...so CUTE!
6.
GOO JUN PYO Commercial! Watch it!
Again so cute!
7.
BOYS OVER FLOWERS(Jun Pyo, Jan Di, Kim Bum) Commercial(LG CF)


8.
Kim Hyun Joong is part of a 5-member Boy Band SS501
who sang the song
"Because I'm Stupid"
in this drama.
9.
Kim Joon is part of 3-member Boy Band T-Maxx
who sang the song
"Paradise"(opening song)
in this drama.
10.

Boys Over Flowers is divided into 2 seasons

which means in the whole 25 episodes, 2 seasons were aired.
(You may know if it's the second season when Ji Hoo starts to change his hairstyle.)

11. F4 Special Edition:
Each F4 member gets his own "episode". Just watch the video on Youtube or Mysoju. Don't want to post it here because I don't want to break the excitement of other viewers.